When I visited Gent six weeks or so ago, it was to see the city and take in a little bit of cycling. Hence I got to watch Omloop Het Nieuswblad and Kuurne Brussels Kuurne. The former was a more interesting race and I duly found a nice bit of a cobbled 'berg to view the race from.
I enjoyed my day out, and I wanted to see more. Paris-Roubaix has always held massive appeal to me – the cobbles, the Arenberg Forest, the dust, the pounding punishment taken by bikes and riders. I wanted to go and see that. But how?
My natural inclination is to work out how to do it myself. Google Maps revealed that Lille is handily situated for a number of cobbled sectors. There are 27 separate sectors totalling around 53km of the 254km total race. Sectors are rated on a five-star system for their degree of difficulty. Many of these routes are really farm tracks that get little car traffic when there isn't a race going through. So they're rough roads with tougher pavé than in Flanders.
But there were problems with the DIY option. Getting to Lille is obviously easy via Eurostar, and it has plenty of hotels. But getting to the cobbled sectors isn't so easy when local trains are severely compromised by the race. As has widely been reported, this year's race saw the riders come across a closing level crossing to let a TGV come through. Some trains just don't stop for a cycle race.
In Flanders, I used my Brompton to get around, and this was a possibility, but I started searching to see if there was an alternative. A group tour seemed to be a good compromise. So I booked with Sports Tours International who run a couple of spectator only coaches for the race (they also have different tours for those doing the sportive, and I think some more exclusive tours).
Even with an organised group, it's all still something of an undertaking. I met the coach at a service station on the M25, but others had come down from Leeds. We headed on down to Dover, crossed on a ferry, and then drove south to a perfectly decent budget hotel not far from the start town in Senis. We were sharing our hotel with the Bretagne Seche-Environment team – a French squad with a single Brit amongst them! So it was good to be able to see the mechanics assembling bikes around the back first thing in the morning, and to see that although the team had their own breakfast room, they were eating from the same buffet that we were!
There were two further budget hotels next door, each with their own team staying there: Bora-Argon and Ag2r La Mondiale.
We headed out ridiculously early from our hotel on Sunday morning, and reached Compiègne where the race actually starts, some 80km from Paris. Sports Tours International have run these trips for years, so they know where to park the coach to ensure a swift departure.
The theme of the day would be trying to make sure we got away from any given location to allow time to get to the next one before the riders arrived or roads got shut.
One of the best things about cycling is that you can usually get right in amongst the team warm-up areas. The buses get parked and mechanics put out the bikes and do any last minute tinkering. Fans look on hoping for either a souvenir or an autograph (I guess "selfie" these days too). In Gent, the town square had been given over and it was a complete throng. But Paris-Roubaix is an ASO event, and they know how to get maximum return from their races. So there are lots of "exclusive" areas with access to those who have the right passes. And unfortunately, that included vast tranches of the town square where the coaches were arriving and parking up. If you had the right lanyard you could inspect the 28mm tyres and see what modifications teams had made to their bikes for this race. But for us nobodies, we had to lean over barriers around the edge. OK – it wasn't too bad, but it wasn't the free-for-all that I experienced in Gent.
However, not all the buses fitted into the partitioned square, so like many other Brits, I headed to the Team Sky bus to see if I could catch a glimpse of Sir Brad, for whom this would be his final race in Team Sky colours. While his form didn't seem to much, you could never tell. And this was the man who caused me to buy a last minute flight to Paris in 2012 when it looked like he'd be the first ever British Tour de France winner.
There really was a throng outside his bus. Partly because it was outside the gated area in the square, and partly because it was Wiggo's last race.
We were on a tight timetable as I've mentioned, and our instructions were to leave the square at 10:10, 10 minutes before the scheduled race departure. In fact, the departure was delayed 10 minutes because a strong tailwind was likely to lead to a fast race. This would have repercussions.
But by 10:10 none of the riders had emerged. I saw fellow members of our party still hoping to grab a picture or get an autograph. It was more like 10:15, just as I was leaving, when he finally came out with his team. Bad photos from the back of the crown taken, and it was time to high-tail it back to the bus.
Then we began the theme of the day. The bus raced onwards and we would hope that we could make the next stopping point at Inchy – the first of the cobbled sectors. The riders actually get the thick end of 100km on regular roads before the cobbles begin. And we needed that time to race ahead of them. On Twitter I was seeing that the tailwind meant that riders completed the first 50km in an hour!
Our viewing point in Inchy was pretty busy when our coach pulled up and we had to troop across a ploughed field to reach the old track that ran in a bit of a trench. Position suitably found, we didn't have long until the riders came through. As is the norm, a break had formed and a group of no-hopers were a couple of minutes or so ahead of the peleton.
This wasn't the worst cobbled sector, but the riders were flying over it. The sunshine meant that they – and the accompanying fleet of vehicles, were kicking up masses of dust. I grabbed as many photos as possible, and then once the main group was through, we were under strict instructions to head quickly back to the coach. No hanging around to see if any stragglers were trying to get back on. This was obviously less of an issue here, but would become a bigger one later on.
Karl, our tour rep had told us that the tailwind might mean that we'd have to skip our second section of pavé, but in fact, we were OK, and would be able to make it. Although the riders had to race 90km or so, getting a coach around the French countryside is no mean feat. We were heading to Sars-et-Rosières, a few sectors beyond the the Trouée d'Arenberg. The cobbles that form a straight line through the Arenberg forest are easily the race's most famous sector. They run some 2.4km, and races have been won there in the past as someone has ridden off the front.
But it's also packed with spectators and hard to get in and out of quickly. So we were leaving it alone and finding a quieter section.
Another parked coach and another walk – this time through a small French village (this is one of the poorer parts of France, but this village definitely bucked that trend with lots of smart new-builds) – to reach what ordinarily would be a farm track. I found a reasonable place to try to snatch some photos, although the direction of the race means that riders are coming out of the sun all day long, and it was a very sunny day.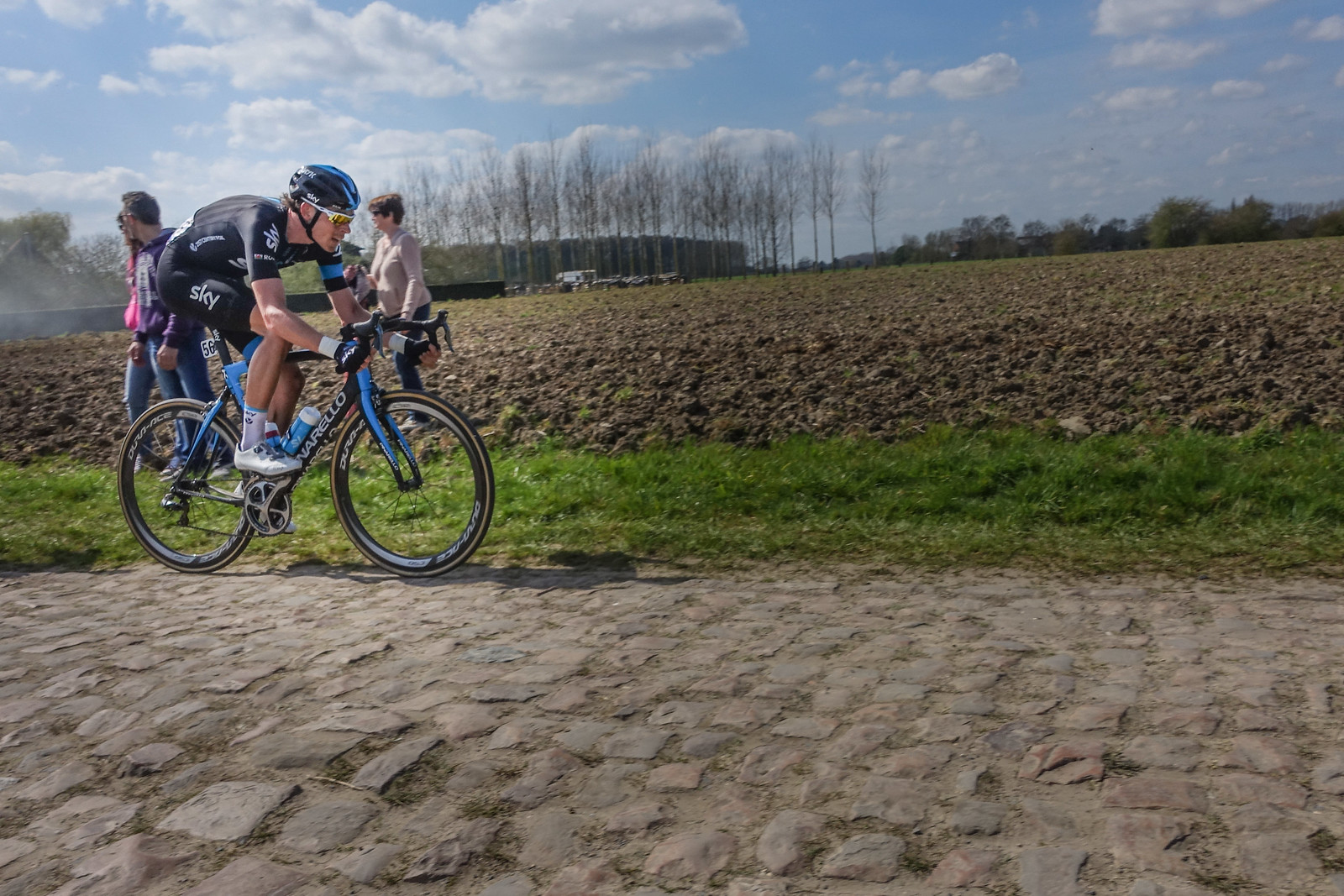 The break still had quite a healthy advantage. It was only later that I realised that this was because of the now famous level crossing incident, after which the race was neutralised for a while to allow riders to get back into the peleton.
My mobile data hadn't been working for a while (I would somehow manage to burn through 150GB, largely on Twitter. And yes I'm very suspicious about how mobile operators account for data when abroad.), so wasn't aware of any of this.
When the main peleton came through, Omega Pharma Quickstep were driving it, and Wiggins in particular was well back in the group – not the place to be. Worst than that, Geraint Thomas was off the back a bit. I learnt that this was because of both a crash and a puncture. He didn't look happy.
Amusingly, it was also here that one of the Mavic neutral service cars itself suffered a puncture!
Riders were pretty strung out now, but we couldn't stay to watch them come through, as we were going to try to get to the velodrome in Roubaix for finale. Uniquely, Paris-Roubaix ends with 1.5 laps of the famous of old open-air velodrome. It's free to get into, and TV pictures in recent years showed me that it wasn't full.
Two chaps on the coach in the row behind me were on their third trip with Sports Tours International, and said that the first year they had made it to the velodrome, but last year they hadn't. They'd ended up being dropped off close by – but had watched the racers in the streets of Roubaix about 500m short.
It was more a question of when the police shut the roads than when the riders reached the finish.
For us, it was so near and yet so far. I'd got Twitter working again and Wiggins had attacked. And then been caught. But there were several riders in a group 30km to go. Then 20km. We were still on the coach. The roads were closed – we couldn't get close to the velodrome. Google Maps said it was a 45 min walk to it. The race would be here in minutes. So we hopped out and watched it on course. I didn't see a sign, but reckon it was at about 5km to go.
A lovely French lady, having established I was English (as were a couple of Sky-attired riders who weren't part of our group), told be about her English themed house which was on the route. She had a few riders she was interested in circled, and having learnt I worked for the BBC told me how much she enjoyed Woman's Hour and the Daily Service on LW. She then said the Lord's Prayer in English to prove it!
But the riders would be upon us. Many of the residents had radios out – and one enterprising lad had a laptop streaming the race. I was relying on a radio with my very limited French (garbled sports commentaries aren't the easiest place to gather information if you don't really understand the language), and Twitter.
And then they were upon us – a leading three (who would win) – followed by a handful more (who would catch the leaders, but still not make the podium). Luke Rowe from Sky was doing well, but Wiggo's attempts had come to naught and even a final kick wasn't enough to get him up to the leaders as they entered the velodrome. There John Degenkolb became the first German to win Paris-Roubaix since 1896. He was presented with a mounted piece of pavé.
However we were now racing back to Calais to see if we could get on an earlier ferry (we could), and where some of our party would have tea with Phil Liggett (not an organised thing – they just bumped into him). The coach driver popped on "I Am Sailing" as we drove up the ramp to the ferry.
I was home by 23:45 which was pretty decent – particularly as the schedule had mentioned a 02:45 drop-off!
Would I do it again? Perhaps. The organisation was excellent, and we were treated well with decent food in the clean budget hotel.
With a car, a GPS, and good maps of the area, you could do it yourself – and probably get into Roubaix too. In essence you're really pretty limited about where you can go if you want to see multiple stages, with traffic getting in and out of the towns and villages, and factoring in enough time to leap frog ahead of the race. In many respect, it appears that some of the Flanders races are better suited with loops built in that assist spectating. (The chaps from Blaze report seeing the race in the Arenberg Forest and at the Velodrome before racing home).
I would still like to go and see a good Alpine or Pyranean stage of the Tour de France. And I think perhaps that of the one-day classics, the Tour of Flanders is probably next on my to-do list. I think there are ways of seeing that race a few times, and being able to see live TV pictures at the same time.
Cycle races are of course better seen on TV than live to fully appreciate. You invariably go home and watch the recordings of races you've spectated at – and not only to see if you can see yourself. But the same could be said of most sports. That doesn't mean you don't want to be there!
However Twitter is a godsend. Follow plenty of teams, cycling journalists and broadcasters, and you'll get a good idea of what's happening as long as you've got reception.
Although I've included a lot of photos here, there are even more on Flickr.
And I employed the slow motion functionality of my Sony Xperia Z3 to shoot this. It's all a bit other-worldly, and it lasts a while. But particularly in one of the later shots, you can really see how much the riders bounce around. And although it looks like I put my phone in a very dangerous position, it really was out of the riders' way.