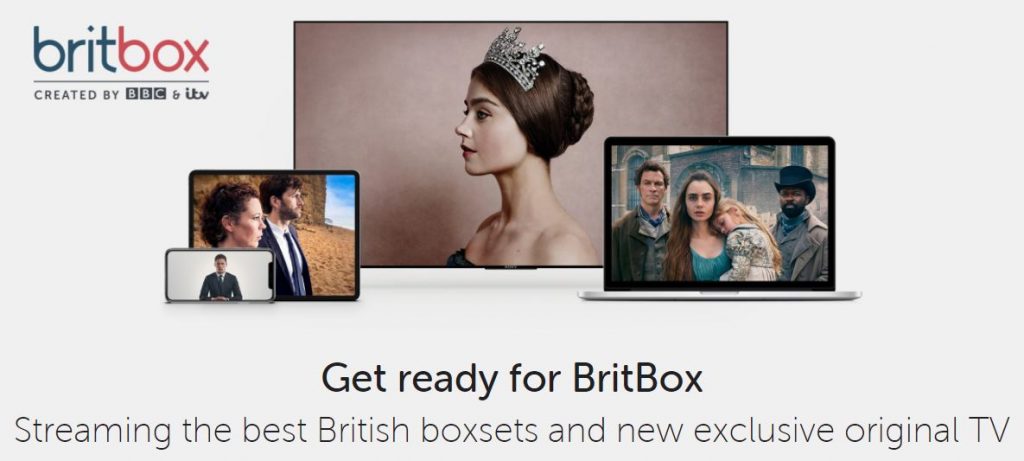 ITV plc has just reported its annual results, and it was for that reason that we got the announcement of BritBox pretty much simultaneously. Because, from the careful phrasing the in the press release, you can tell that the deal hasn't quite been done and that there is a final bit of finessing to do: "The BBC and ITV are in the concluding phase of talks to establish…"
Leaving aside both that and issues surrounding the name, which would seem to work better outside the UK rather than within it, BritBox has been a solid success in the US, where it now has 500,000 subscribers to it's Subscription Video On Demand (SVOD) service.
We have to be a little careful here, because the US is an enormous market. There are something like 120m homes there, so 500,000 has to be seen in that light. Nonetheless, there's solid demand there.
What we don't know yet is how much the service will cost, nor what will be available. That means it'd be rash to make any kind of judgement at this stage. And will Channel 4 come on board?
So we'll take what clues we can get. The image that appears on the BritBox homepage (above) has stills for Victoria (ITV Studios/Mammoth Screen/Masterpiece), Broadchurch (ITV Studios/Kudos), Les Miserables (BBC Studios/Lookout Point/Czar TV) and what I think must be James Norton from McMafia (BBC Studios/AMC/Cuba Pictures).
I include those production companies, because they begin to become quite important in determining where a show might end up, and whether it could be included in BritBox.
"The service will have everything from old favourites to recent shows and brand new commissions," doesn't really help too much.
We can look at the US service, but that could be misleading, as rights are regularly negotiated by territory. The US service offers things from Coronation Street to Poirot. And it's worth mentioning that there's another SVOD service in the US that directly competes with BritBox offering its own range of TV from the UK (and beyond) – Acorn TV.
There are clearly a lot of shows that could fill up BritBox from the start. ITV already has its premium version of the ITV Hub and that includes all those classic ITV shows that get shown on hard repeat on channels like ITV2, ITV3 and ITV4, and you imagine that catalogue will be folded into BritBox offering. There are all kinds of shows that the BBC could do the same with, although many of them do get airings on UKTV channels, and a recent disagreement between UKTV and Virgin Media was around how much UKTV material was made available on demand.
The big streamers like Netflix and Amazon tend to be most interested in only the highest profile shows. There's plenty more to go around. But the service will need some of those big shows to drive viewers. 2000 episodes of Homes Under the Hammer and Tipping Point probably won't shift many subscriptions.
Beyond that, there are a number of financial issues this new service's owners must face.
Turning Down Co-Production Money – At the moment, if the BBC or ITV commission a top drama series, they tend to use deficit financing. In other words, the commissioning channel does not pay the full production cost of the series. Instead, the production company, a distributor or its financiers take on some of the risk, funding the remainder of the cost. In return they offset that by being able to market with the show beyond its first window on the commissioning TV channel, including its streaming rights. That's why, when you watch something like Blue Planet II, you see a host of other broadcasters names at the end of the credits. They pay money up front in return for certain rights in certain territories.
The issue is that in recent years, significant amounts of this funding has come from the likes of Netflix and Amazon. Last year's biggest drama series, Bodyguard, was commissioned by the BBC, but made by World Productions, an independent producer owned by ITV Studios. In turn, ITV Studios got Netflix on board as a financing partner. Netflix took all the ex-UK rights, and the series ended up on Netflix globally (but not in the UK) fairly soon after the drama had finished airing in the UK.
It seems likely that Bodyguard will show up on Netflix in the UK in August or September this year, once a 12 month BBC exclusivity window has closed.
(We're also beginning to see the reverse of this behaviour. This May Good Omens will appear on Amazon Prime, only following some months later on the BBC. This also happened with later series of Ripper Street that the BBC had otherwise cancelled at that point.)
What all of this means is that if the BBC or ITV want to make a premium drama, they might have to find production or sales partners who don't have distribution outlets in the UK, if they want that drama to end up on BritBox and not Netflix etc. And as budgets get bigger and audience expectations increase, that becomes harder.
Now to be clear, just looking at the production credits on a series really doesn't reveal the whole story. Only the contracts between the commissioning channel and production companies will fully detail who has what rights for what windows in what territories.
Turning Down the Licencing Money – This is similar to the above but really comes from programming fully owned by the BBC or ITV. Doctor Who would be an example. At the moment, it's licenced to Netflix who carry all but the most recent series. Netflix didn't put money into it; they just agreed a licencing fee for a period of time. Both the BBC and ITV have been licencing their programming in this way for a while. Netflix has viewer data to help determine whether they should licence a property, or renew an existing licence, and they attempt to make agreements with the rights holders to licence or re-licence programming.
There was a fascinating example of this earlier in the year with Netflix and the Warner's series Friends. Netflix's previous deal had expired, and meanwhile AT&T, Warner's new owners, had announced its own upcoming SVOD service to launch later in 2019. Keeping Friends exclusive to their forthcoming service might pay dividends for Warner's. But there was an offer from Netflix of between $70m and $80m for the rights to the series for 2019 alone. Warner took the money and Friends remains on Netflix (Friends is also on Viacom channels in the UK, including Channel 5).
Independent viewing data suggests that Friends is still heavily viewed on Netflix – perhaps as a kind of "comfort blanket" sort of programming. That and the volume of episodes available means that it's one of the most watched shows on the platform. I doubt Netflix would have ever gone out marketing the fact that they had Friends, but its presence keeps subscribers happy.
It's now expected that Friends will leave Netflix in 2020 and become exclusive to the new Warner's service – in the US anyway. But these are the kinds of dilemmas that the BBC and ITV are going to have to face. If you get a really good offer for Sherlock from Netflix, do you take it? Or do you make Sherlock BritBox exclusive?
A Boxset Future
It's worth thinking of BritBox in the context of audience desires. The BBC has recently opened a consultation on iPlayer and boxsets. In particular, their stated desire is that 12 months, rather than 30 days will become the catch-up norm. Currently series drop off iPlayer relatively fast, although you might then have to wait for 11 months for them to appear elsewhere.
One may envisage the future as being a series getting a 12 month iPlayer window, free to licence-fee payers, before the series moves over to BritBox on a more permanent basis, where you might have to pay £6.99 a month for access, always assuming that the rights for BritBox are available.
I don't think that this is a complicated proposition. I've seen a few people questioning the idea that BBC viewers in particular might have to pay for something that their Licence Fee already paid for. But this is really a 2019 replacement for DVDs or even videos. There has long been a tacit understanding that if you really want to watch and rewatch a favourite series, then it's going to cost you some money. The same happens with films, and other TV series. The average Sky viewer never has a clue when Game of Thrones is going to be available as a boxset. Sky's deal with HBO sees shows come, go, come back and go again from Sky's own boxset offering. Films drop off Netflix and Amazon. You learn to live with it.
(NB. Of course, a streaming service absolutely isn't a replacement for owning the media – ideally offline. Shiny discs are under-rated.)
A Multiplicity of SVOD Services
How much do you currently pay for your TV services?
A full Sky or Virgin Media package, including sport and movies might cost £100 a month. But let's cut the cord and start adding up what everything costs.
Netflix starts at £5.99 a month, although you'll pay more for better quality streams or more simultaneous logins.
Amazon Prime costs £79 a year, or £7.99 a month and obviously includes free next day delivery as well as other benefits including a music streaming offering.
What next? Now TV because you can't do without access to Game of Thrones or Premier League football. The Entertainment Pass costs £7.99 a month, while movies cost £9.99 a month. Sport is £33.99 a month! Notably, Now TV always has a number of offers so it pays to shop around with them.
That won't quite do it for me. I want access to cycling on Eurosport, so I'll pay for their player too. That'll cost me something like £4.99-£9.99 a month, or £39.99 a year.
We're actually getting close to £75 a month at this point. Although some services don't give you full 1080p HD (let alone 4K) at those prices.
Obviously, I'll also have access to free or ad-supported services like iPlayer, ITV Hub, All4 and Demand5.
The question then is, how many services will one household pay for? I've heard 6 mentioned as a baseline to work with in the US. But that really must assume that you're not paying a big Sky or Virgin bill to start with. According to reports, Enders Analysis says that the average number of services in the UK is just 1.4. That may be the case now, but it's surely a number that will increase in the coming months, because there are more big services due to launch.
Disney+ will launch later this year, and will offer things like Star Wars TV spin-off series, as well becoming the home to all those Disney, Star Wars and Marvel movies. They are going to really push the boat out on this offering. They will leverage their IP aggressively to support this service.
NB. In the UK, Sky renewed a deal with Disney in October 2015 that has given Sky exclusivity over Disney, Marvel and Star Wars movies for a minimum of 18 months. It was not reported what the duration of that deal was, and it will be interesting to see if Disney declines to renew that deal in the future, keeping everything for its Disney+ service. That has been the pattern in the US. Comcast outbid Fox (itself being bought by Disney) for Sky ownership.
Then there's Apple, which is going to launch some kind of service, probably in the next month or two. What it actually is, what you'll get access to and how much it costs, is a subject of much discussion in the industry. They might bundle it with an Apple Music subscription, or limit access to Apple hardware. We'll have to wait and see.
In the US at least, AT&T will be launching its own SVOD service towards the end of the year too. AT&T has bought Warner's (Friends, The West Wing, ER etc) and that comes with HBO and its library too. Reports suggest that HBO is going to be delivering more hours of programming in future, in part to service this new offering. Game of Thrones prequels are not to be sniffed at.
NB. It'll again be interesting to see what this means to UK viewers where Sky has "output" deals with both HBO and Showtime – the latter owned by CBS. The HBO deal was last renewed in 2014 and ensures that Sky remains home to HBO programming (unless it's co-produced with another partner) until 2020. A drama co-production deal was signed in 2017, but it's not clear whether that output deal was further extended. Does AT&T want to take ownership of the HBO relationship with viewers in Europe? Sky is now owned by Comcast who are direct competitor of AT&T in the US. Those Game of Thrones prequels may or may not end up on Sky Atlantic first.
Beyond all of these, there are other specialists like Shudder (horror), Hayu (reality), BFI Player (films), StarzPlay (film and TV) and many more. In the US, Hulu is an important platform, there is CBS All Access (New Star Trek series etc.) and NBCUniversal is expected to launch a service too.
How many will people pay for? In the new world, this is untested, but it's clearly a competitive arena that BritBox is entering.
But it is worth noting that these new players have the potential to strip a lot of programming away from the incumbents. This explains why Netflix is trying to become ever more reliant on its own properties. It will lose Friends et al at some point. It has not renewed its pricey Marvel deal. Studios from other groups may not want to sell to Netflix in the future, preferring to supply their own platforms. (A slight wrinkle in this comes with a recent adjudication in the US, where Fox has been found guilty of self-dealing in its own corporate interests, but against profit share participants in the TV series Bones. This may play out in interesting ways.)
For consumers in the future, this probably means a need to subscribe to a multiplicity of services to get a reasonable range of programming. Netflix and Amazon on their own probably won't be enough.
Summary
In retrospect it was a terrible decision from the Competition Commission in 2009, when the predecessor to this service, Project Kangaroo, was prevented from launching. It was seen as too much of a threat to the third parties entering the space. You can read the report from just ten years ago here.
Of course, what happened subsequently was that Netflix morphed from being a DVD rental business to becoming a global streaming powerhouse. Amazon came in and bought LoveFilm (another DVD rental business) and it too became a global streamer. And audiences flocked to these services causing particular anguish at the younger end of the market with existing broadcasters.
Audiences expect ever increasing production values from their drama, and at the same time as its becoming globalised, with viewers happy to watch a Latin American set drama like Narcos, where half the dialogue is in Spanish. However, at the same time programmes are arguably becoming more homogenised. A Netflix series is expected to work in more than one territory which impacts on characterisation, setting and casting. So far, Netflix's UK originals have not felt terribly British in tone.
Netflix subscribers probably now outnumber Sky subscribers in the UK, and few producers can resist their lure. Netflix has signed up Shonda Rhimes and Ryan Murphy to blockbuster deals to make new shows exclusively for them. Amazon will perhaps spend as much as $1bn on its upcoming Lord of the Rings TV series.
There's no way to determine at this stage how well BritBox will do, but between ITV and the BBC, but they do have a decent amount of marketing muscle available to them (I suspect there'll be limits to what can be done on BBC TV however).
The question of original commissions is interesting. When ITV Encore existed, ITV made a few shows for that, like The Frankenstein Chronicles and Harlots. And the BBC indirectly creates original shows via its UKTV subsidiary, Flack being a recent W launch, while Alibi enters some co-production deals and is making a new Val McDerrmid series, Traces.
None of those would count as flagship shows though – being enough to get your wallet out to pay for. That will be interesting to watch. My guess is that they will be looking at a few lower budget genre series – crime or SF – which can develop loyal audiences.
But it would be wrong to think about BritBox in terms of original commissions. This is about providing access to quality British programming and not ceding the SVOD world solely to US players. I would hope that the rights owners can experiment a little, and dig into the catalogue. However it will be the big hitters that get viewers in. It'll be intriguing to see how it develops.