Here's a trip I made earlier this year, but didn't write about at the time. I'm publishing this piece now because I did always mean to write about my experiences, but also because I made a podcast of my trip, and that podcast has just been published as an episode of The Cycling Podcast's Explore series. I'm a producer on The Cycling Podcast, and normally spend my time just editing audio rather than making it. But for this trip I took a Rode VideoMic Me-C along for the ride and recorded my trip.
I should also note that this podcast covers a lot of the weight loss things that I've been doing over the last year or so.
Anyway, read on, or why don't you listen to the podcast too?
The King Alfred's Way bikepacking route is a new circular route designed by Cycling UK, and launched last year. It's a circular route of about 350 km, starting and finishing in Winchester and taking in Salisbury, Stonehenge, Marlborough, Reading, Haslemere and Petersfield amongst others. Big chunks of existing routes, familiar to mountain bikers and bikepackers are included along the way including stretches of the Ridgeway and the South Downs Way. Being a circular route, you can obviously start and finish wherever you like! But if 350 km sounds straightforward, it's worth noting that 80-85% of the riding is off-road.
I decided to start and end my trip in Winchester, and I planned out a way to take in the route over four days. A big part of planning is deciding on what you're going to do for accommodation. My plan was a mixture of camping and hotels. While I'd have been happy camping throughout – I was going to be carrying some camping gear after all, there are some practical aspects of this that are difficult. I was looking for campsites that fell at the right points along the route that would allow me to stay for a single night. You see in a pandemic/post-pandemic world, a lot of people were holidaying in the UK, and that meant that some campsites wanted multiple night stays, or didn't really welcome anyone without a caravan.
In the end I planned to stay overnight in Winchester at the start to get me off early on the first day, with 130km on the first day to a campsite near Marlborough – just off the trail – and then a hotel stop in Reading before a second camping stop near Petersfield and a gentle return to Winchester. Even then, the second campsite was slightly reluctant to have me as they were really a caravan-only place.
The other thing I needed to decide was which bike to use. Cycling UK has designed the route to be very much a bikepacking one. You could theoretically ride on a touring bike, although some of the muddier and more rutted paths might make that hard.
On the other hand, you could do the trip on a mountain bike, although they tend to be heavier and perhaps not as nimble. Since it was a route designed for bikepacking, I went for my Canyon Inflite bike – something originally bought by me as "cyclocross" bike, although not a bike that has ever actually been in cyclocross race.
I fitted the bike out with some 40mm Maxxis Ravager Gravel tyres which turned out to be a smart move, and got some Ortlieb bike packing bags – specifically a handlebar pack which I stuffed my pretty small tent, a framepack which still left room for both bottle cages, and where I kept my tent poles, heavier items like USB charger and food, and a seatpack for my clothes, my sleeping bag and sleeping mat. I don't like carrying backpacks for these kinds of trips if I can help it, so I got everything mounted on the bike. I also got Ortlieb's accessory bag which hangs off the front of the handlebar pack (although I managed to destroy that on the last day).
The only other concession were my wheels which, er, I built myself and would hopefully prove to be fairly bombproof.
Day 1 – Winchester to Marlborough
I must admit that I went into this ride with some trepidation. Not because I didn't think that the distance was eminently achievable, but because in the days prior to starting, there had been a fair amount of rain despite being in the middle of the summer. I'm not that worried by rain, but I was concerned about slogging through mud.
But that morning, the day after the summer solstice, was pretty good itself as I arrived at Winchester Cathedral to start my ride. This was planned to be the longest day of my ride – approximately 130 km heading first towards Salisbury, but swerving that city before heading north over the A303, near Stonehenge, and then heading across Salisbury Plain. My route would finish near Marlborough, where I'd divert off the main parth down into the town and to a nearby forest campsite where I'd spend the night.
As I climbed out of Winchester and hit the first trails, it was fairly easy – until it wasn't. There was certainly plenty of mud, and fairly quickly the bike was getting snarled up in it. Many of the off-road sections of the route would prove to be fairly rutted – a combination of farm vehicles and leisure vehicles deepening the ruts which you invariably end up in. And once in, it's hard to get out.
I kept moving, but could feel my back wheel slipping and sliding under me. You just needed to be fairly confident and keep pedalling. And by now my front disc brake was bunged up with mud and wasn't properly working. There wasn't much I could do – only 30 km in or so. Just keep going.
The route skirted around the north of Salisbury and would take me through Amesbury and then across the A303. This is the road that famously takes those in the south-east out to the south-west running through to Devon for onwards journeys to Cornwall. As such, despite being a single-lane for much of that distance, it's always busy. Furthermore, it famously runs close to the World Heritage Site of Stonehenge.
For years various governments have talked about what they can do to reroute or hide the road from this globally historic monument. The current plan – still being vigorously fought – is to dig a long tunnel and hide the road around the area. But that has its detractors too because, unsurprisingly, the entire area is full of ancient archaeology, and building a tunnel would potentially destroy some of that.
Whatever happens, having a major road run just metres from Stonehenge is not a viable solution.
The day I was riding was the day after solstice, when many druids and similar come to celebrate the alignment of the stones which were built in such a way that the sun would appear to rise alongside the stone known as the Heel Stone. There were still stragglers hanging around the area a day later as I cycled through Larkhill. I detoured a little to get as close to the stones as I could – without paying for entry. Then it was onto Salisbury Plain.
The King Alfred's Way route does a good job in navigating this area largely owned by the British Army and used for training and manoeuvres. Sometimes areas are closed and you have to circle around. As I turned down one road, I saw a sign that at first glance suggested the closure of the path I wanted.
Later, I wasn't so certain that it was closed, but I rerouted myself for a few kilometres to avoid the area.
Some of the off-road sections here were quite heavy going, but I kept my pace up until eventually finding a village with a shop open for buying some supplies.
I passed through Avebury, which has its own incredibly impressive standing stones, and which is much less visited that Stonehenge. The stones circle much of the village, and are worth seeing in their own right. (I used to live in Bath and have visited both these places before).
Finally I was climbing up onto the Ridgeway and heading east. Near Ogbourne St George I detoured away from the route and followed a fine cycle path that ran along a disused railway track into Marlborough. I'd booked a night at a campsite just outside the town up a steep hill and in a forest.
The site's manager was friendly and had only vaguely heard of the King Alfred's Way. I suggested that they might find more visitors doing the route in future wanting to stay with them. The campsite was good – although notably there are no shower blocks there. I managed to finally pitch my tent – I was using a tent that I had not camped in for quite a few years. I'd originally bought it for a cycling holiday in the Scottish Western Isles years ago, but because it had been a while since I'd last used it, I'd forgotten exactly how it went up!
I didn't really have much in the way of food, and England had a European Championships match that evening. I ventured down the hill through the forest into Marlborough, but decided against squeezing into a pub to watch the game and trying to get some food. Instead I went to the big Tesco store at the bottom of the hill, bought a disposable barbeque and some food to cook on it. Out the back of the largely deserted Tesco, employees who had drawn the short straw and got a shift that clashed with the England game were trying to watch it on their phones. I was plugged into the radio commentary listening to a 1-0 victory while I walked back and then cooked my burgers.
Day 2 – Marlborough to Reading
The previous day's efforts meant that I slept very soundly, and my second day's riding would mean that I didn't need to over-exert myself, since it was a frankly leisurely ride today into Reading.
After I packed up the tent and headed off, my first stop was the BP station at the bottom the hill next to the Tesco. I'd spotted a jet wash there, and £2 later I was giving my bike a nice quick clean. Certainly, jet washes aren't brilliant if you're not careful. But I wasn't about to blast out the grease from my bearings – just get rid of the mud clogging up my bike.
The good news was that my front brake was now working again.
I grabbed some breakfast and then headed back down the disused railway line and back onto the Ridgeway.
I would spend much of the rest of the day up on this part of the route with its fantastic views left and right. Occasionally it drops down and then you have to climb back up again, but it was a nice day, and the chalky surface hadn't captured much water meaning that the going was much easier than yesterday. The weather had improved too, and throughout the morning I had blue skies from my high vantage point.
There were more people around too. Lots of locals drove out to various spots along the route to walk their dogs or go for runs. But there were now plenty of other cyclists – often on mountain bikes, although a few like me were on bikepacking trips and were using gravel bikes.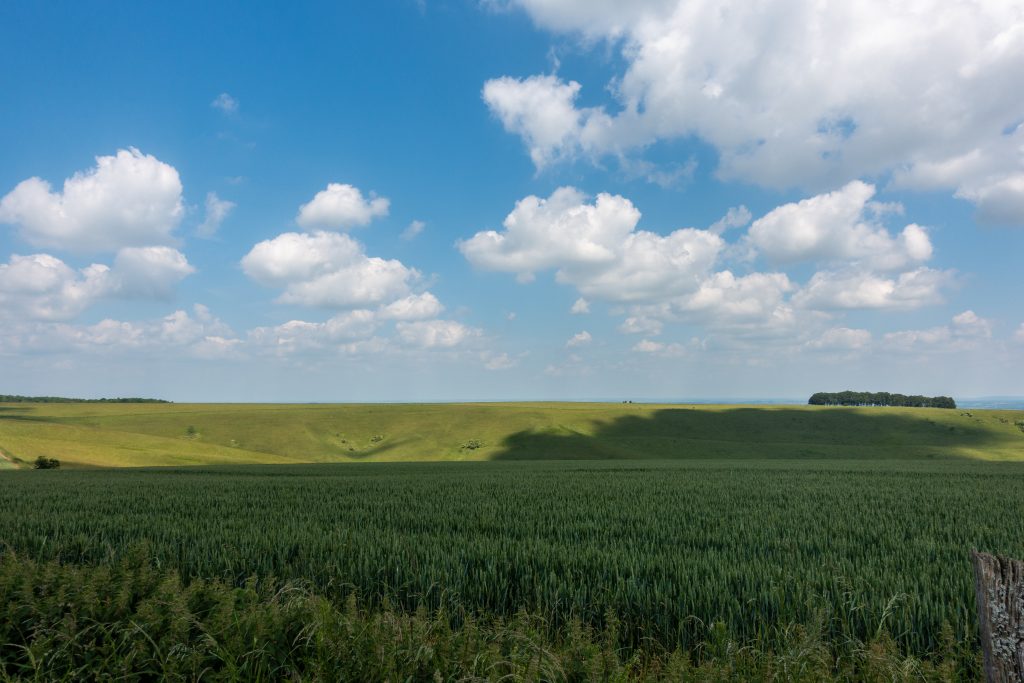 Certainly either type were better than the group I'd run into on Salisbury Plain the previous day. That group had attempted to do a section of the Plain on their regular racing bikes and it was not working for them. I saw someone hoisting their very expensive looking Pinarello with its 25mm tyres, through the mud, and did all I could not to say anything to them.
At one point along the Ridgeway I came across a mother struggling with her son's bike. They'd put in the car to come for a ride, but the V-brake wasn't working and neither knew how to fix it. It took me a couple of minutes to sort it out for them and they were on their way.
The Ridgeway really is fantastic riding for mountain bikes, but it's not so bad for gravel bikes as you can really get up some pace. Indeed it was only wariness about the surface that stopped me bombing down some of the hills even faster than I did.
Eventually the route swung away to join the Thames Path at Goring-on-Thames. Oddly, this would prove to be hilliest part of the day, and at one point I had to get off and push because the 20% climb on concrete slabs was just too much for me. The Thames Path doesn't run alongside the river itself, like a canal path. It sort of runs parallel, often quite high up and in the trees. Indeed, you often couldn't actually see the river at all.
Eventually the route drops down closer to the river in Reading. And there, I found there was a major incident underway. There were police cars, ambulances, fire brigade and divers filling up the road as I picked my way through. I would learn later via the local news, that someone had disappeared nearby into the river. I don't believe that they were successfully found.
I was staying at a chain hotel in Reading, but my bike was quite muddy again. Since I was planning to wheel it into my room for the night, I did the decent thing and headed to a nearby Morrisons where the bike got it second jet wash of the day.
I headed out into Reading to eat a big meal.
Day 3 – Reading to Petersfield Winchester
My original plan had been to do the route over four days, spending the third night at another campsite. But the real world had intervened. Mum had fallen and broken her hip. She'd been in hospital to get it operated on, and she was still there. I couldn't have visited even if I wanted to – Covid restrictions were in place and my brother was her single designated visitor. But I needed to get back as soon as I could to help out. Mum wouldn't get out until tomorrow at the earliest, so I decided I would conclude my ride in one go today, so I could head off tomorrow to help out.
That meant that I'd need to cover 160 km today. That's only 100 miles, but with much of it still off-road, I needed to set off early to ensure I had time to catch a train back to London.
So at 7am I was off heading south from Reading along small country lanes for much of the first part of the route. I was making good time, but in due course I would meet the North Downs where my passage would be slowed up somewhat.
This part of the route is quite ingenious in that you pass very close to some quite populous areas – at least in comparison with much of the route you've already covered. Yet it stays pretty quiet.
Near Aldershot I had a very surreal moment in a wood when I realised that there was a soldier, on his own, waiting for something. Passers by like me were not that something. I looked at him. He ignored me. No words were exchanged. I carried on.
The North Downs are quite sandy, and that makes some of the riding particularly hard. There were some climbs uphill in the sand that felt like you were trying to ride your bike through dunes. It was nearly impossible. At other times, you would come across parts of the route that went through debris fields of rocks the size of bricks. I got off and walked at one point because doing such routes on anything less than a mountain bike would have been foolhardy.
This was a tough day with more than 2,000m of climbing, and once clear of the North Downs, I now had the South Downs to face. In truth, these are easier because again, you're riding along a ridge for a good amount of the way. I reached the Queen Elizabeth Country Park which is a local MTB mecca, and stopped at their well appointed cafe. The A3 bisects the route here, and once crossed there's an insanely steep climb up to Butser Hill. I didn't manage it all the way up without getting off.
I was now keeping one eye on the clock as I ploughed on along the South Downs Way where much of the route was taking me. There are some lovely sections here and some great views. A few years ago I went to an exhibition of the early 20th century English painter, Eric Ravilious. He painted lots of the South Downs, and I could recall his pictures in the landscape that I was now seeing.
As Winchester started getting mentioned on road signs, I deviated a little from the official route and instead of sticking mostly to the trail, headed towards the road. I wanted to make some time up and get to Winchester quickly.
I probably knocked a couple of kilometres off doing this, and I definitely entered Winchester amidst slightly more traffic than I'd left it, but I'd finished the route, arriving back at the station at about 5.30pm.
In total I'd ridden 359 km – slightly more than the official route, probably as a result of my Marlborough diversion. I'd climbed 5,000+ metres and burnt 12,000 calories. In total the ride took me 22 hours or so – although I wouldn't attempt that in a single day.
Summary
This is unquestionably a lovely route, and it's nice to have something that's quite accessible from London. Indeed you could easily do the ride in sections if you planned it carefully, returning to London each time.
I wouldn't necessarily recommend doing the ride in three days as I did. I think four would be a comfortable minimum, and five or six would be options depending on your fitness. That would also allow time to go off-route a bit and properly visit places like Salisbury Cathedral or Stonehenge.
On a lovely summer's day, I can see why gravel bike makes sense. A traditional tourer would be a little wide in places depending on how you pack your panniers. But I do think anyone doing this ride should consider a mountain bike for it. If the weather is hot and dry then the gravel bike is perfect. But at any other time, a mountain bike would be the more sensible option.
It would be great if there were more campsites along the route. Perhaps as the ride becomes more popular, there'll be more facilities open to riders. Wild camping would have been an option here, although technically you need the landowner's permission to do this in England anywhere aside from Dartmoor.
But it was a fantastic few days riding that I'd recommend to anyone. Probably wait until the Spring now though!
Oh, and in case you're wondering, mum's doing well, although recovery from a broken hip is a slow process.