Updated with more information on the recall methodology and to note that BBC data is based on BBC Sounds listening.
Having trailed it at The Podcast Show in London, Edison Research today published the first full findings of their Podcast Metrics survey for the UK.
The survey was conducted by interviewing 2,273 weekly podcast listeners aged 15+. Since it is a survey, it does not require "opt in" from any podcast production companies. In essence, they're asking a large sample of people what podcasts they listen to.
As in America, Joe Rogan is top of the list, sitting ahead of The Diary of a CEO and Off Menu.
There probably aren't that many surprises in the table, although some titles get much more hype surrounding them than others. No Such Thing As A Fish, for example, has been around for a long time, but I'm not sure that it's popularity is always reflected in day to day UK podcast coverage. It certainly did in the past, but media tends to move on to newer shinier things.
It's notable that all but four of the top 25 are British titles which must be pretty gratifying for the UK podcast sector. By my reckoning, Joe Rogan, The Daily, Stuff You Should Know and Logan Paul are the only non-British outliers.
The BBC has the most titles on the list with six, lead by Newscast, although Gary Lineker's Goalhanger Productions has two in the top 11 (and they're busing launching new The Rest Is… titles at a rate of knots).
What we don't know is how many people are listening to each of these.
There is no reach figure of any kind attached to these, with those figures being held back for paying subscribers along with other information like demographics. From the Edison Research release:
"Data from Edison Podcast Metrics UK will provide show-level information on the top podcasts in the UK as well as network reach statistics. Subscribers will have the ability to analyze demographics of podcast listeners, including their purchasing and consumption patterns across a wide range of consumer goods and services."
What that means is that we don't know how close The Diary of a CEO is to Joe Rogan. It might be really tight, or it might be a massive gulf between the two.
The other thing to consider is that the methodology is based on recall. There's nothing wrong with that and much research is carried out that way, but it's likely to be unprompted because there are so many potential podcasts anyone could be listening to. In other words, respondents have to volunteer the names of podcasts rather than picking them from what would otherwise be a really long list. That is likely to favour more famous titles which are likely to be more memorable. I'm not saying that there's a potential top 25 title out there that everyone has forgotten about, but even with more than a 2,000 sample size, it will mean some "mid-table" titles might not get a large enough sample to extract meaningful data from (I believe that in the US, Edison publishes data down to #100, but they've been in the market much longer).
[Update 25 September: I'm told that respondents are asked to open their phones and tell interviewers which podcasts they've been listening to which should help significantly with the whole prompted/unprompted issue. Obviously, not all podcasts are listened to on phones, and there are other small issues that you can envisage with this methodology. But I'm probably nit-picking now, and fundamentally, this is likely to be the best way to capture listening without access to the actual download data.]
The other thing to note is when this research was carried out is important. Titles that aren't always-on, i.e. publishing year around, may do worse in this kind of research at different times of the year. If a title was between seasons during Q2, or only published for a proportion of the weeks surveyed, that might impact it. Obviously, there's nothing to stop people listening to old episodes, and as we shall see, at least one title in this list was between seasons in Q2, so it's not an inevitability.
Finally, there's an interesting comparison to be made between the Edison numbers for BBC titles, and the figures that BBC itself publishes, which are based on listening on the BBC Sounds app and website.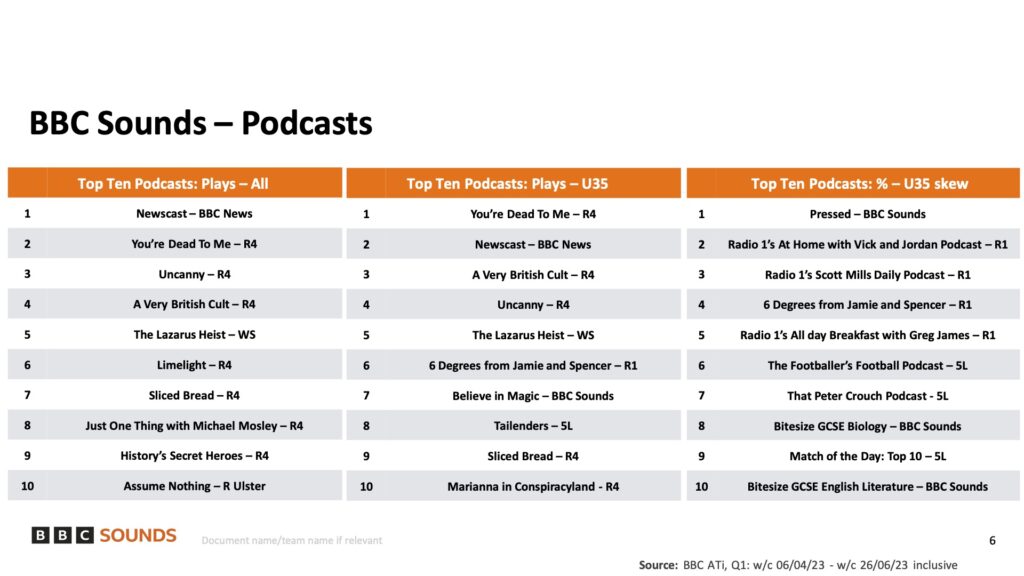 This data is also for Q2 2023, and the left-hand column is what I'm interested in. Newscast, which comes highest for the BBC in the Edison list, is indeed top in the BBC's list, but notably there's no sign of The Infinite Monkey Cage on the BBC's list in that quarter. Essentially there were no new episodes published during Q2, with the series returning with new episodes only in very late June and so only publishing a single episode in Q2. Despite this, it comes in at #13 on the Edison list.
Desert Island Discs doesn't show up on the BBC podcast list at all, although it does show up on the separate "On Demand Radio" page of the BBC research in position #2. That's partly a consequence of the BBC differentiating between podcast originals and radio shows that are also released as podcasts. Desert Island Discs is a title that is released in both "On Demand Radio" and "Podcast" formats, with listeners getting more music in the former version. Similarly, The Archers is at #1 and In Our Time (currently celebrating its 1,000th episode) is at #3 on the BBC's "On Demand Radio" list, but neither appear on the Edison list at all despite both having podcast versions available. However, it's useful to remember that this is only listening on the BBC Sounds platform.
And while You're Dead To Me and Uncanny are high in both lists, the BBC charts have no mention of Money Box in either of their lists.
Anyway, this is again to point out that this is recall rather than direct measurement. So you will get differences. It'll be interesting to continue to compare and contrast these numbers with those floated by the BBC and other publishers in this list in the future.
Saturday might seem to be an unusual time to publish such a list, but it has guaranteed a big space in tomorrow's Observer newspaper which doesn't feel accidental.
Update 2: Matt has also written about this release. Interestingly, he tried to get something similar to this off the ground previously, and notes that very quickly, even with a large sample, it becomes very hard to get meaningful numbers. Go away and have a read!
James Cridland spoke to Senior Vice President of Edison Research, Melissa Kiesche, and she offered some additional information I've collated here.
Disclaimer: These are my personal views and do not represent those of my employer. I mean, that's the case for everything I write here, but it's worth spelling out again!